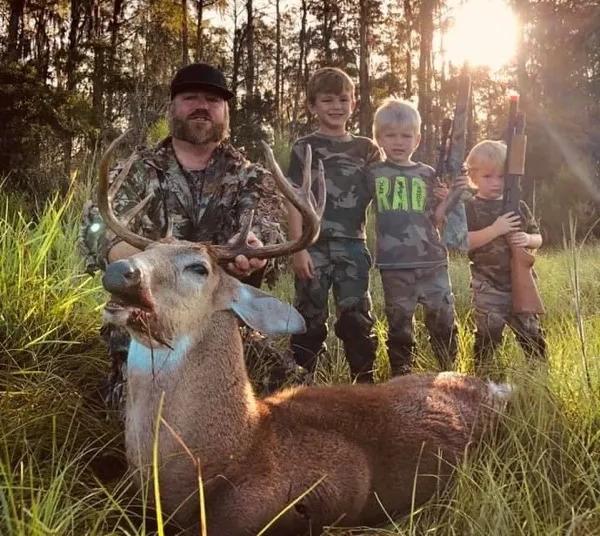 My name is George Sterner
This is the Sterndog story. The Sterner family have been hunting and fishing the woods and water of this country for generations. My brother Geoff and I were born in Colorado. Hunting, fishing, & the outdoors was a huge part of our upbringing. It was almost as crucial as the God-fearing faith that mom instilled in us. Mom was a flight attendant, and Dad was a plumber. When Mom left on trips, Dad had the boys, & we went hunting. I remember my dad dressing me in an all-white milkman suite to stash me in a ditch bank/blind to call in Canadian Geese on a snowy day. When we were too young to walk, dad carried us through the pheasant fields of Colorado, Kansas, Nebraska, & South Dakota in a backpack. We hunted with Dad and his best friends, Red Fox, Punchy, The Kid, Yates, & Turtle. They called Dad "Dog ."I can still remember watching the dogs work the field. Old Jamal, Dad's flat coat, would get birdy & he would say, "Get Ready." When the rooster came up, I would yell, "shoot 'em, Dad!" These experiences & memories are what developed our love for the outdoors today.  It was the legacy that our dad passed on to us in Colorado. Our family moved to Florida when I was in third grade, and Geoff was in first grade. 
We learned to hunt and fish in the woods and water of Florida. Even as Floridians, we would always head west at least a few times a year to hunt and have fellowship with our friends and family. If we weren't hunting and fishing, we were playing sports. Geoff and I played baseball, basketball, football, and golf. I excelled in baseball, signing a baseball scholarship with Arkansas State University & even signed to play a season with the Yankees. I signed @ ASU with a promise from my coach, Bill Bethea. He said, "if you sign with ASU, you can duck hunt every day. We build our schedule around it." I said, "Where do I sign"? Geoff excelled in football, signing a scholarship with Western State in Colorado. God's country in Gunnison. Dogs have always been a huge part of our lives. When it came to bird hunting, we wanted dogs that could waterfowl hunt and more. The German Wirehair was the perfect breed for us. Geoff found a Kennel out of Colorado called Smoke Creek Kennels, owned by Bill Kennedy. Geoff got a couple of dogs from Bill. Then both Dad and I got a dog from him.
We got Smoke Creek Oscar & Smoke Creek Dude
These two dogs changed our lives as we know it. We graduated from meat hunters to competition hunters. We started competing in the National Shoot to Retrieve Association in 2010. Oscar and Dude quickly became household names. It's safe to say we did our share of winning with Oscar and Dude. Because of these two dogs, Sterndog Kennels was born. We picked the name Sterndog because Geoff and I had been nicknamed "Sterndog" in our athletic careers. We competed and built our kennel over the next decade. Geoff met Jason Norton, owner of Norton Kennels, and acquired Sterndog Norton's Jeans Bean as a pup. Owned and trained by Geoff, this little dog surpassed Oscar & Dude to become our top dog.
She became the top dog in the country in 2018 for all pointing breeds winning the NSTRA Purina Performance Award. She is still competing today, and she is the GOAT – GWP ever, Bean is. Jason Norton is a great partner and friend. He is a big part of our kennel's success. Sterndog Norton's Salty Czech Mix is OKK – AKA – "Czech the Cheetah" is following right in her 1/2 sister Bean's footsteps. She has now placed in 4 National Field Trials & is still competing today. All the dogs we showcase in competitions and on our guide strings today were produced by Oscar, Dude, Czech, and Bean, the foundation of Sterndog Kennels. Sterndog Hunts started in 2016 under the corporate name Sterner Brothers Inc. I was thick into competition hunting, guiding quail hunts, running my insurance agency, and raising a young family. I got a call from Billy Bishop, who shared his vision about creating a hunt club based on family, Wounded Warrior Outdoors, and business relationships. He asked me to provide quail hunting for the new club. The call took place on a Monday, and I presented a business plan that Wednesday. The first quail hunt took place @ Billy's hunt club that Saturday. The rest is history!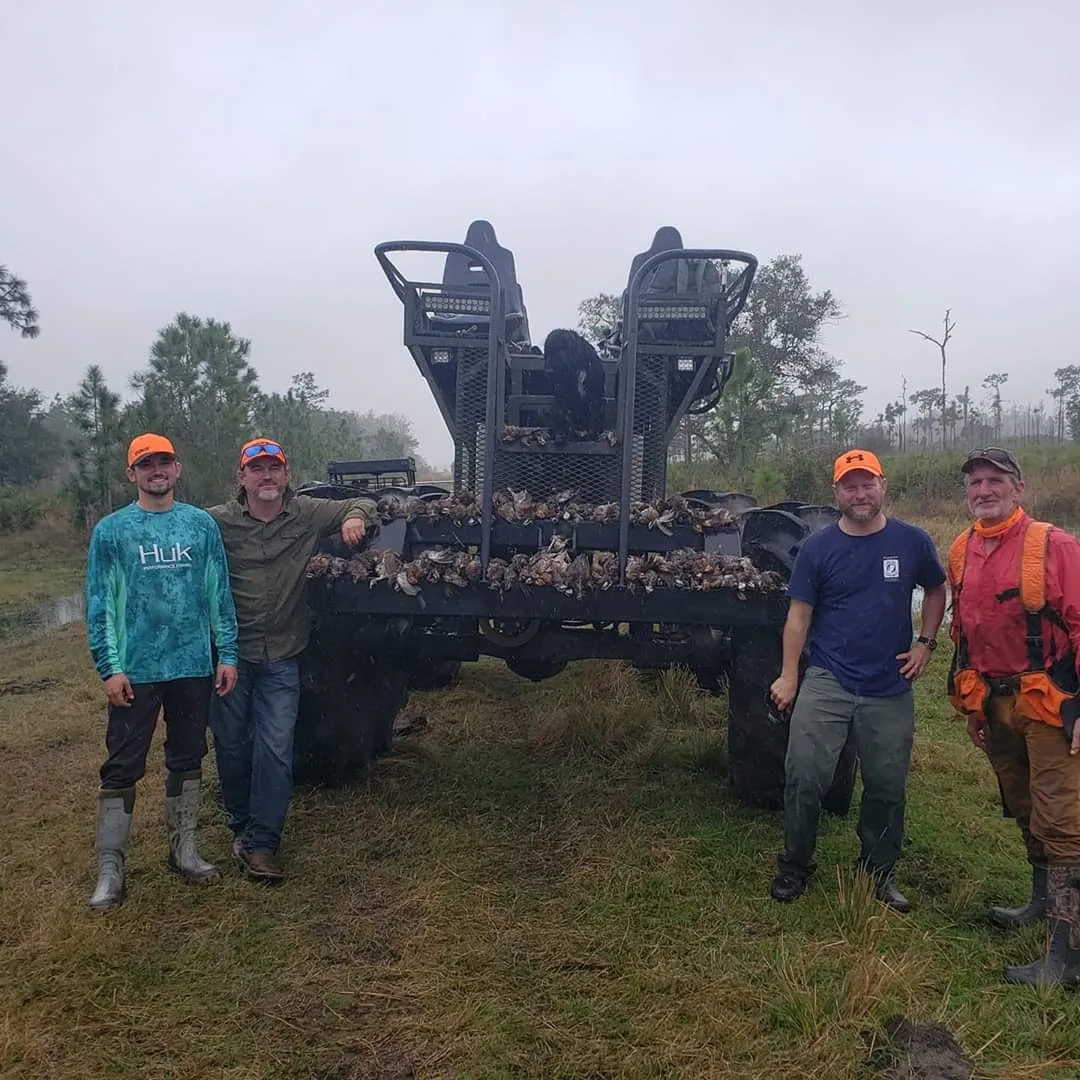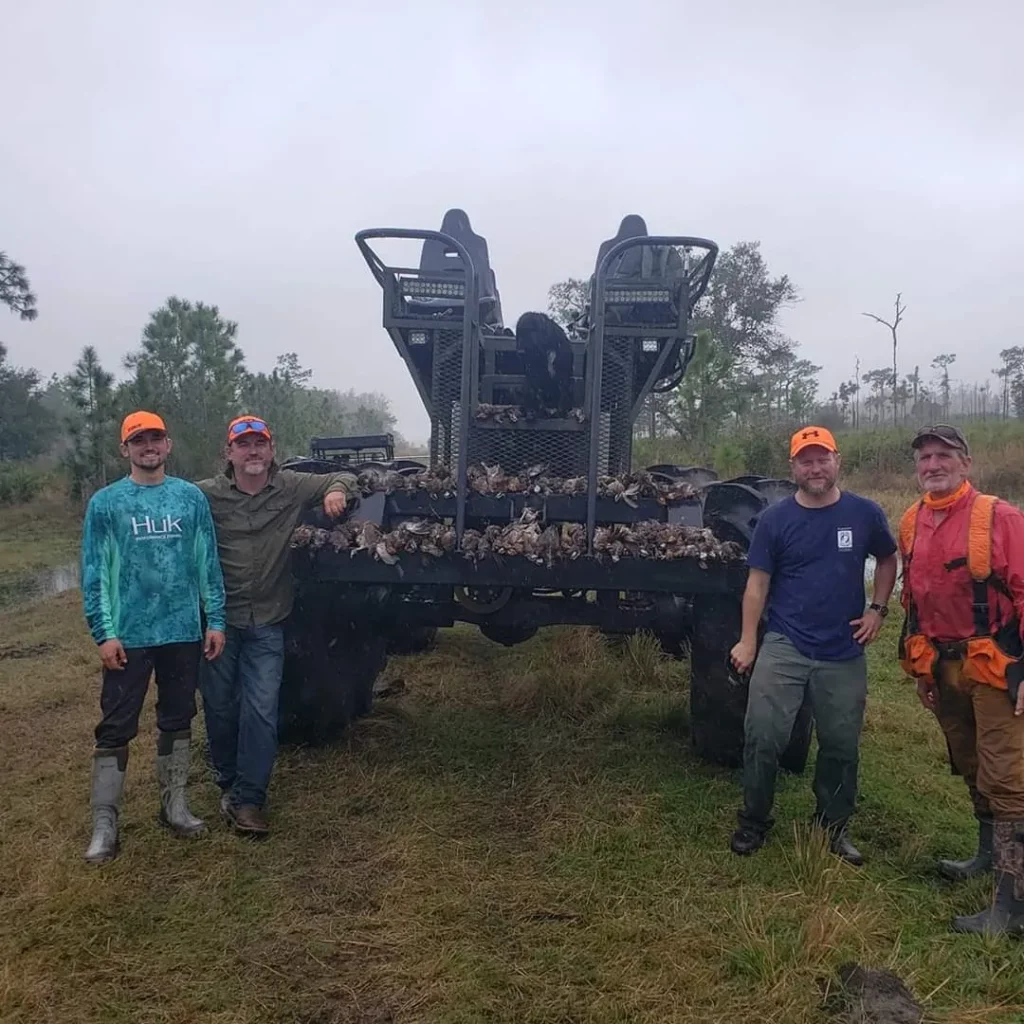 The club in central Florida grew
Into the premier hunt club and quail hunting opportunity in Florida. Geoff expanded the reach to Texas & Nebraska, leasing over 500,000 acres of premier big game, waterfowl, and upland hunting grounds. We build private hunt clubs on private land & we provide quail hunting opportunities to private land owners and clubs. To us, it is all about passing on the legacy. Quail Hunting is our true specialty. The Sterndog quail hunt program is what sets us apart from everyone else. Our guide team in Florida, Texas, and Nebraska has some of the best dogs and most experienced guides you will ever find. A Sterndog quail hunt features a variety of award-winning dogs, fulfilling our goal to create the best quail hunting experience in the nation. Our bird populations and habitats are world-class. We have a unique process that has been proven over the last decade to be a recipe for success. We tailor the quail hunting experience for every client, and we welcome hunters of all experience levels. Bird hunting and bird dogs are the Sterner / Sterndog family legacy.
Currently, Sterndog hunts can plug you into our private members-only clubs to quail hunt. We also have a brand new open-to-the-public quail hunting opportunity in the heart of Central Florida. We can even bring the hunt to you in the right situation. Now Geoff and I are raising our families the family tradition of enjoying the great outdoors is now in its 4th generation. We are bringing our children up just like our dad did with us. We believe the outdoor experience creates relationships & memories that last a lifetime. Sterndog Hunts, Passing On The Legacy. Learn more about our hunts and book online